The London Eye Clinic at 75 Harley Street, formerly under Mr Philip Starr and now under Dr Matthew Starr, has been treating glaucoma patients since the 1960s.
We have always used Humphrey visual field testing to document patient's changes in their vision as it is the 'gold standard' test.
We accumulated folders and folders of printed sheets on thermal fax paper. This did not meet the needs of ourselves or our patients.
We looked for a digital solution. The manufacturers of the Humphrey visual field machine told us it 'could not be done'.  After years of searching we were guided to RedTitan and their outstanding, customer-oriented team led by Clive Simpson. Their marvellous, tiny piece of kit called the Print2PC takes the images of the test results and converts them to a digital image.
No longer do we have to store folders of yellowing thermal paper. Everything is digital and organised. Every patient's results can be located instantly on a computer.
Thank you RedTitan for your superior technological solutions to real-world problems faced by eye clinics, and for your outstanding customer service.
<![if !vml]>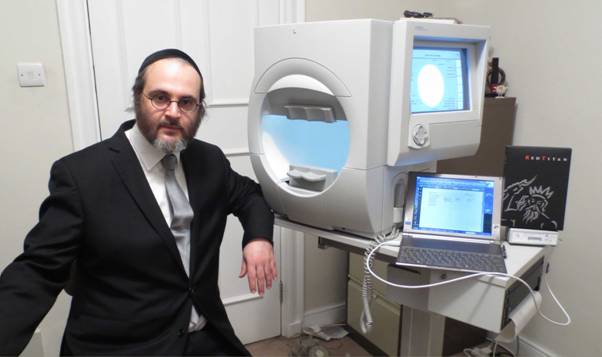 <![endif]>
Dr Matthew Starr at his London clinic with a Humphrey visual field machine and the RedTitan Print2PC solution.